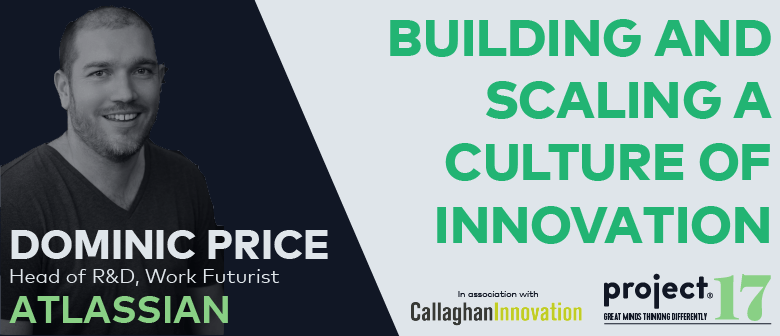 Project17 - in association with Callaghan Innovation - are thrilled to announce that Dominic Price, Head of R&D and Work Futurist at Atlassian, will be visiting Auckland for two events - an evening Keynote on Tuesday, 4th April and a 3hr morning Masterclass on Wednesday, 5th April.
Growth, particularly explosive growth, that catapults a company from a handful of staff into the thousands, is the stuff of entrepreneurs' dreams. And yet huge monolithic global companies are not usually known for innovation. Something about size and scale seems to inhibit leanness, change and rapid iteration. Not so Atlassian. They remain innovative, consistently streamlining and improving, and consistently topping 'best places to work' lists in Australia and the US.
Price admits that growing at such supersonic speed presented unique challenges that few firms ever have to deal with.
"If we're all going to get hit by tech change, competitors, new industries and high customer expectations, then how can we innovate and disrupt from within? What are the mistakes and pitfalls - and what have we tried that has enabled us to stay innovative, from 10 people, to over 2,000?" 

---
On 5th April, Price will be sharing more in-depth stories and strategies in a 3hr interactive Masterclass: Leading in the 'New' World.
"The industrial revolution left us with a lot of process and habits that don't lend themselves to the modern work environment or employee. How can we all revolutionise the way we work as leaders to inspire those around us, in this world of high-tech change, millennials, disruption and competition? Atlassian has done this through the Team Playbook and open-source methodology that can be used by any team, anywhere, to build new muscle."
As a Kea member, there is a special rate available for the Masterclass. To secure your space, click here and use the code PROJECT20 to give you $20 off. (limited to 10 tickets)